The next step is the charge your Buddy. Open the rubber flap on the side of the Buddy and you will find the ON/OFF switch and the mini USB port. See below diagram.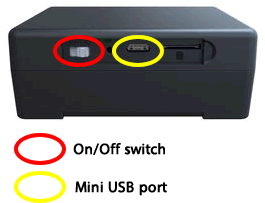 Connect the mini USB end of the charging cable to the mini USB port and then connect the USB end of the charging cable to an active USB port and turn on the power to charge the device. Please leave the Buddy turned off while it is charging. It will take up to 10 hours to fully charge the Buddy. Once the Buddy has been fully charged, the red light should go off. You can now turn on your Buddy using the ON/OFF switch.
Never touch the SIM card. Doing so could make your Buddy cease to work and will void your warranty.